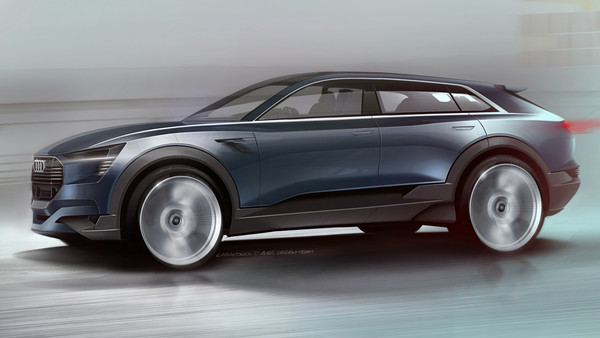 Audi is to unveil an electric car to rival Tesla's forthcoming Model X that the German marque says is capable of travelling at least 310 miles on battery power alone.
The Volkswagen-owned carmaker will display the concept, a sport utility vehicle provisionally called the e-tron quattro, at next month's Frankfurt motor show and plans to put it into production in 2018 as its first mainstream electric car.
The off-roader will be smaller than Audi's existing full-size SUV, the Q7, and would compete with the much-delayed Model X, planned for release this year by Californian electric carmaker Tesla.
Tesla has repeatedly shrugged off competition from other carmakers, with founder Elon Musk saying he welcomes anything that jump-starts the sputtering market for electric cars.
Audi is not the only upmarket carmaker preparing plug-in vehicles. Aston Martin plans to produce an all-electric version of its Rapide sports car in the next few years, ahead of the launch of its DBX electric crossover vehicle.
Mercedes-Benz, the German marque owned by Daimler, plans to launch 10 plug-in hybrid vehicles by 2017. BMW already has an all-electric compact, the i3, as well as the i8 hybrid sports car.
Carmakers worldwide are pushing into electric and hybrid vehicles to help them meet stringent average-fuel-economy targets from regulators.
"Hybridisation, plug-in hybrids, or pure electric vehicles – this is a must for everyone," Rupert Stadler, Audi chief executive, told the Financial Times earlier this year.
"And the car company who is not able [to keep up] — not able by financial power, or not able by competence and technological power — they will disappear."
Audi's new concept builds on the technology used in its R8 e-tron, a limited-run sports car.
The SUV has a large, lithium-ion battery positioned between the axles, three electric motors and so-called active aerodynamics — moveable elements at the front and rear of the vehicle that improve airflow around the car.
The stated range of 310 miles, or 500km, is better than the 420km offered by the basic version of Tesla's Model S, though its top-of-the-range 90kWh version can do 560km.
Audi says the e-tron quattro interior offers room for four people, potentially putting it at a disadvantage to the seven-seater offered by Tesla.
Culled from Financial Times Of London