by Paul Wallace
Nigeria's silence on currency mars sale prospects, Emso says

Country marketing $1 billion of debt to U.S., U.K. investors
Nigeria's finance officials have done a lot of talking this past week as they looked to entice investors to buy the country's first Eurobonds in almost four years.
But if their presentation at the London leg of a four-city U.K. and U.S. roadshow was anything to go by, there's one subject they would prefer to avoid: the nation's currency dilemma.
The naira has weakened 37 percent against the dollar since June after the central bank ended a 16-month peg that had created foreign-exchange shortages in a country grappling with the collapse in crude prices and militant attacks on pipelines. While would-be bond buyers were encouraged by plans to curb corruption and increase the tax take, the problem, they say, is that the central bank is again holding the naira steady through an array of trading rules, making it difficult to assess whether their funds would be used to defend the currency instead of being spent on infrastructure.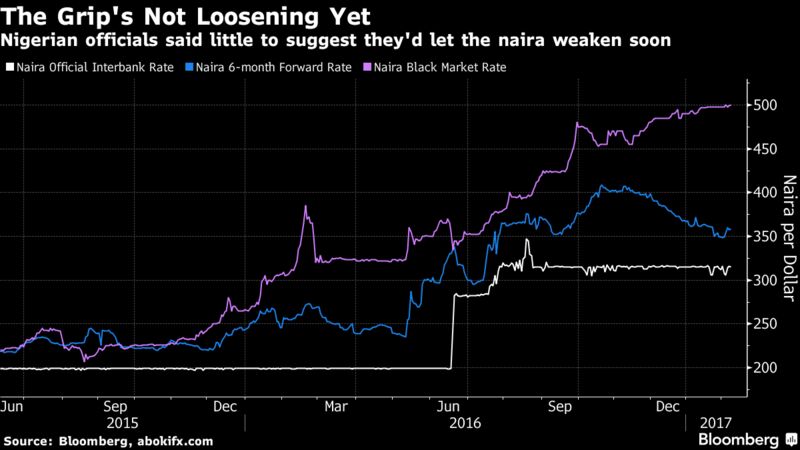 "The foreign-exchange policy is the elephant in the room," said Oliver Weeks, who attended the Feb. 3 meeting at London's Corinthia Hotel for Emso Asset Management Ltd., which manages about $3.5 billion of emerging-market bonds. "They didn't address it. The fact they're doing the Eurobond before addressing it is a sign that the foreign-exchange policy won't improve quickly."
If Nigeria's central bank Governor Godwin Emefiele let the naira float freely, it would drop as much as 12 percent in six months to 358 per dollar from 315, forward contracts indicate. The black market rate fell to a record 500 last week, almost 40 percent weaker than the official one, as the hard currency-squeeze worsened.
Nigerian Eurobond prices are testament to the investor skittishness. The government's $500 million of 10-year notes maturing in 2023 yielded 6.72 percent on Tuesday, compared with 6.53 percent a month ago. That's widened the premium over similar-maturity U.S. Treasuries to 481 basis points, from 467.
Longest-Dated Debt
Africa's most populous country wants to sell $1 billion of amortizing 15-year bonds, which would be the longest-dated dollar securities it's ever offered. The delegation, led by Finance Minister Kemi Adeosun and Sarah Alade, a deputy governor at the central bank, completes the presentations in New York on Wednesday. A spokesman for the Finance Ministry in Abuja declined to comment when called by Bloomberg News.
Nigeria should be able to raise 15-year bonds if they yield about 8 percent, or 10-year notes if they yield 7.5 percent, according to Kevin Daly, a money manager who helps oversee about $11 billion of developing-nation assets for Aberdeen Asset Management Ltd. in London.
When Nigeria last turned to international capital markets in July 2013, oil, its main export, was at about $110 a barrel and the economy was growing more than 5 percent annually. Crude prices have since halved and gross domestic product contracted in 2016 for the first time in a quarter century, according to the International Monetary Fund.
Price Increases
The naira needs to weaken to about 380 per dollar for foreign investors to return to Nigeria's local markets, according to Daly. Adeosun told money managers that such a move was difficult since it may lead to an increase in the price of gasoline, almost all of which Nigeria imports, Daly said.
"My takeaway from the meetings is that they're going to hold the line on the naira," Daly said. "They didn't promise anything concrete. They said they were working on fine-tuning the foreign-exchange system. But what does fine-tuning mean? It's clear they're getting tired of answering questions about the naira."
The central bank will probably wait until President Muhammadu Buhari, who's argued against a devaluation, returns to Nigeria before revising its policies, according to Richard Segal, a senior analyst at Manulife Asset Management in London, who also attended the meetings. Buhari may even refuse to budge before the next election in 2019, lest it hurts him politically in a country where many people view the exchange-rate as a gauge of the government's competence, analysts at BMI Research said in a note last month.
The 74-year-old leader is in the U.K. for medical check-ups and on Feb. 5 extended his stay indefinitely, with Vice President Yemi Osinbajo taking on his duties.
"Any change would have to be agreed at a very high level," Segal said. "Nothing can really happen until Buhari gets back."